News
Johnny Campbell Christmas Classic GP at the Ranch Anza, CA, Dec 11th!!
Dec 5th, 2011
JCR/HONDA PRESENTS:
THE JOHNNY CAMPBELL CHRISTMAS CLASSIC
The Ranch Anza, CA's World Famous Carlsbad Grand Prix replica course. Sunday December 11th 2011
Mark your calendars and bring your family out for a day of fun with JCR/Honda at the Johnny Campbell Christmas Classic. Go to www.JCRHonda.com to see the one of a kind course map and to read and download more info on this amazing race!!
"This is the kind of race that I grew up racing. It's fun for the whole family. The course was layed out by a select group of racers with features from all over the Off-Road world. Like the ISDE Forrest, Ojos Hwy, The Rock Pile, The Wide Open Straits, The World Famous Carlsbad GP course and much more. We have classes for all speeds, shapes, ages and bike sizes including a pro class with a purse worth $3000 to the winner. The Ranch track in Anza, CA is the perfect location for this race. This is sure to be a day to remember. I hope to see you all there." -- Johnny Campbell
"All of us have worked really hard to put together the best parts of every Off-Road racing discipline and mash them into one single event and I believe we've done it! Johnny has literally been on the ground pounding stakes and tying ribbon to help make this a top notch race and it will definitely be an amazing way to cap off an equally amazing year!" -- Erek Kudla (West Chec President)
Take a ride with Johnny Campbell as he guides us thru a sneak peak of the course.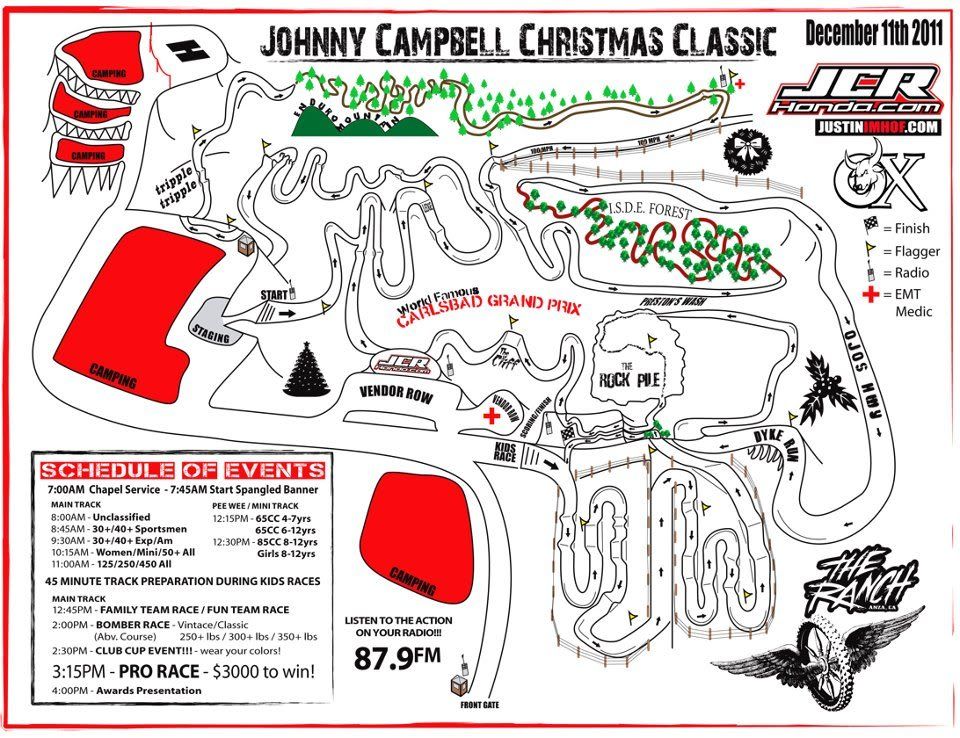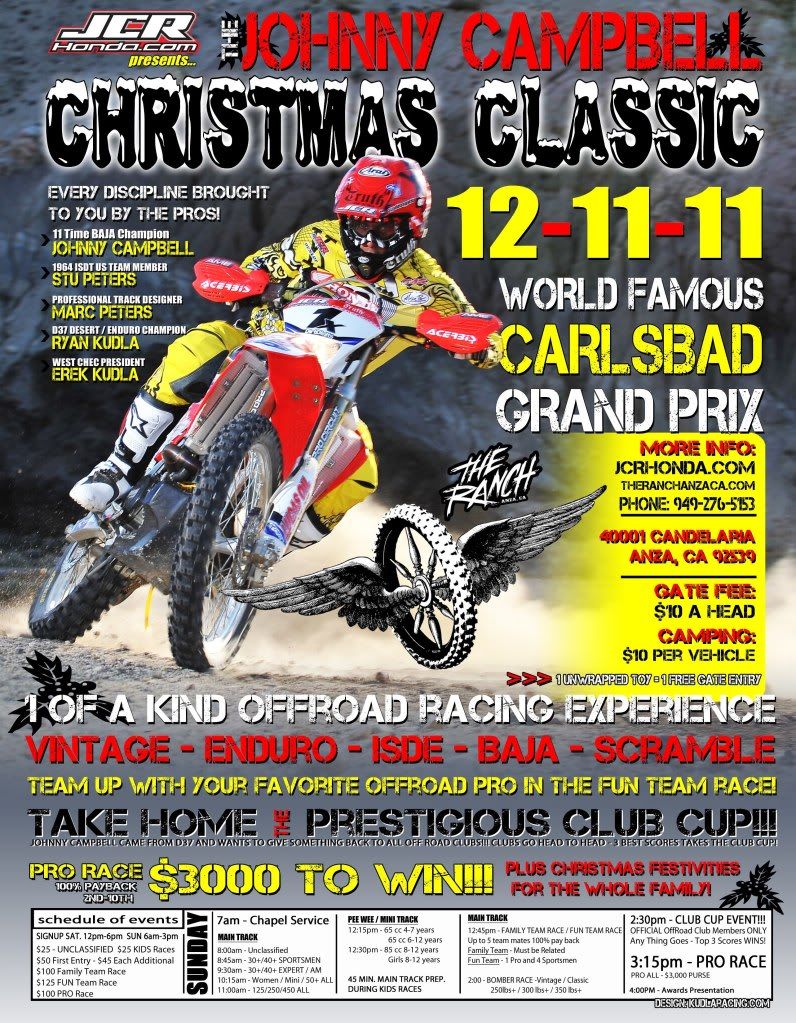 Link to Download Event Flyer http://www.mediafire.com/?k1vilsn6zikximy
Link to Download Course map http://www.mediafire.com/i/?376i7bn1o73mpku
Link to Facebook Event page http://www.facebook.com/event.php?eid=194069700671375
At the Ranch MX Park www.TheRanchAnzaCA.com Anza, Ca
40001 Canderlia Blvd Anza, Ca 92539
DIRECTIONS: -FROM LA
Take I-15 South to Temecula Exit HWY 79 / Temecula Pwky Left Under Freeway Follow HWY 79 for 18 miles (DO NOT TAKE ANZA RD!!!!) Left at HWY 371 - Stop Sign Follow 371 for 15 miles Right on Bautista - Follow Arrows
Arrows From Exit HWY 79
GATE:
-Open Saturday NOON - 10pm
-Open Sunday 6am - 10pm
-Entry $10 Per Head
-Camping $10 per vehicle
12 and Under FREE
Bring an Unwrapped Toy and get 1 free Gate Entry - Donated to TOYS FOR TOTS (Limit 1 per carload)
SIGN UPS
-Open Saturday NOON - 6pm
-Open Sunday 6am-3pm
-Entry
Unclassified - $25 Must be signed up to Race
First Morning Race - $50 Includes Transponder Rental and Number
Each Additional Morning Race - $45
Kids Race - $25
Unclassified - $25 Must be signed up in "First Race"
FAMILY Team Race - $100
FUN Team Race - $125
Pro Race - $100
Unclassified - $25 Must be signed up in "First Race"
Sunday 12/11/11 Schedule of Events
-7AM CHAPEL SERVICE
-7:45AM STAR SPANGLED BANNER
RACES!!!
(all age classes must show proof of age with entry)
-MORNING RACES
MAIN TRACK
8:00AM - Unclassified - 30 Minutes Riders who are entered another race ONLY
8:45AM - 30+/40+ Sportsmen - 40 Min. - Race 1 Class 30 30+ Beginner - Any CC Class 40 40+ Beginner - Any CC
9:30AM - 30+/40+ AM/EXP - 40 Min. - Race 2 Class 30 30+ Amateur - Any CC Class 40 40+ Amateur - Any CC Class 30 30+ Expert - Any CC Class 40 40+ Expert - Any CC
10:15AM - WOMEN/MINI/50+ ALL - 40 Min. - Race 3 Class 6 WOM Beginner - Any CC Class 7 Mini Beginner - 65-85cc 2 Stroke / 80-100cc 4 Stroke - 7-12years Class 8 SUPER Mini Beginner - 85-105cc 2 Stroke / 100-150cc 4 Stroke - 11-14years Class 50 50+ Beginner - Any CC Class 6 WOM Amateur - Any CC Class 7 Mini Amateur - 65-85cc 2 Stroke / 80-100cc 4 Stroke - 7-12years Class 8 SUPER Mini Amateur - 85-105cc 2 Stroke / 100-150cc 4 Stroke - 11-14years Class 50 50+ Amateur - Any CC Class 6 WOM Expert - Any CC Class 7 Mini Expert - 65-85cc 2 Stroke / 100-150cc 4 Stroke - 7-12years Class 8 SUPER Mini Expert - 85-105cc 2 Stroke / 100-150cc 4 Stroke - 11-14years Class 50 50+ Expert - Any CC
11:00AM - 250/450 SPORTSMAN - 40 Min - Race 4 Class 20 85-150 2Stroke / 150-250 4stroke Beginner - 14 years and up Class 21 150-250 2Stroke/250- 450 4stroke Beginner 14 years and up Class 22 250-Up 2 Stroke / 450-up 4 Stroke
11:45AM - 250/450 AM/EXP - 40 Min - Race 5 Class 20 85-150 2Stroke / 150-250 4stroke Amateur - 14 years and up Class 21 150-250 2Stroke/250- 450 4stroke Amateur - 14 years and up Class 22 250-Up 2 Stroke / 450-up 4 Stroke Amateur - 14 years and up Class 20 85-150 2Stroke / 150-250 4stroke Expert - 14 years and up Class 21 150-250 2Stroke/250- 450 4stroke Expert 14 years and up Class 22 250-Up 2 Stroke / 450-up 4 Stroke Expert - 14 Years and up
Pee-wee/Mini Track
CLASS 9
12:15PM - PEE WEE - Race P Up to 65cc 4-7 Years Up to 65cc 6-12 Years
12:30PM - MINI - Race M 65cc-85cc 7-12 years Girs 7-12 Years
MAIN TRACK PREP - NOON-12:45
-AFTERNOON RACES
MAIN TRACK
12:45PM - FAMILY TEAM RACE / FUN TEAM RACE - 1 hr - Race T -Family Team must consist of 2-5 RELATED Family Members - Any CC -Fun Team must consist of 2-4 NON Pro riders – Maximum 1 Pro Rider for each team as their 5th member - ANY CC - 2 Bike MAX2 - Riders may switch as many times and in whatever order they like but ONLY in designated PIT Area - 100% Pay back to the Top 3
2:00PM - BOMBER RACE - 25 Min - Race B Class V Vintage - Up to 1974 - ANY CC Class C Classic - 1975-1985 - ANY CC Class XL 250lbs - 299lbs - ANY CC Class XXL 300lbs-349lbs - ANY CC Class XXXL 350lbs - UP! - ANY CC
2:30PM - CLUB CUP RACE - 40 Min - Race C - ANY OFFICIAL CLUB AMA/DISTRICT/SOCIAL/ANYTHING! - Top 3 Finishes from the club gets Perpetual Club Cup Trophy - Any CC, 14 and Up, ANYTHING GOES! - MUST WEAR YOUR CLUB COLORS! (BONUS STYLE POINTS!HA!)
3:15PM - PRO RACE 45 Min - $3000 1st place + 100% Payback! 2nd – 10th - PRO ALL - ANY CC
4:15PM - TROPHY PRESENTATION - AUTOGRAPH SIGNING
CLASS / NUMBERING SYSTEM -Numbers will be assigned by Class and worn on the front number plate -a colored sticker will represent skill level with a number inside representing race number
Class 22 - 1x-99x 250-Up 2Stroke / 450-up 4 Stroke / PRO Class 21 - 100x-199x 150-250 2Stroke / 250-450 4Stroke Class 20 - 200x-299x 85-150 2Stroke / 150-250 4Stroke Class 30 - 300x-399x 30+ Years Old - ANY CC Class 40 - 400x-499x 40+ Years Old - ANY CC Class 50 - 500x-599x 50+ Years Old - ANY CC Class 6 - 600x-699x Women - ANY CC Class 7 - 700x-799x Mini - 65-85cc 2 Stroke / 80-100cc 4 Stroke - 7-12years Class 8 - 800x-899x SUPER Mini Expert - 85-105cc 2 Stroke / 100-150cc 4 Stroke - 11-14years Class 9 - 900-999x Pee Wee - up to 65cc 4-7years Pee Wee - up to 65cc 6-12years Kids - 65cc-85cc 7-12 years Girls - 7-12 years
BOMBER CLASSES Class V - 1x-50x Vintage - up yo 1974 Class C - 51x-99x Classic - 1975-1985 Class XL - 250XL-299XL 250lbs-299lbs - ANY CC Class XXL - 300XXL-349XXL 300lbs-349lbs - ANY CC Class XXXL - 350XXXL-400XXXL 350lbs - UP! - ANY CC
FAMILY/FUN TEAM CLASS FAMILY - 51T-99T 2-5 Team Mates - Must Be related - ANY CC - 4years and UP - Pee Wees Welcomed - Separate "Peewee/Mini" Course
CLASS FUN - 1T-50T 2-4 NON Pro Team Mates – Maximum 1 Pro 2 Bike MAX
-PLAY RIDING IS NOT ALLOWED - THERE WILL BE NO OPEN RIDING